gone but not forgotten
It is with sadness that we report the passing of two culinary greats whose cooking legacy will live on in the books they generously created for Hawai'i's home cooks. Our deepest condolences to their families.
hideaki "santa" miyoshi
Hideaki "Santa" Miyoshi passed away on July 5.
We enjoyed dining at his Kapahulu restaurants, the first at Kapahulu and Ho'olulu streets and then the much larger establishment at Hee Hing Plaza. His first restaurant opened thirty years ago with Kazu Mitake and was one of the first izakayas in Hawai'i. 
Santa pioneered Japanese-French fusion cooking in Hawai'i. In recent years, he became interested in vegan food. Mutual was proud to have published Izakaya Hawai'i Tokkuri Tei Cooking (2009), a beautifully illustrated collection of Santa's eclectic creations that pushed the boundaries of Japanese cuisine by combining it with influences from French to Hawaiian to Italian.
For more information, please read the Honolulu Star Advertiser article (click here) about Santa.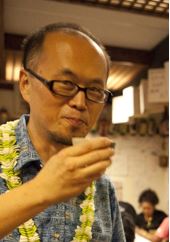 TYLUN PANG
Maui chef Tylun Pang passed away on May 6, 2022. A key figure in Maui's culinary scene, Tylun was the executive chef at The Fairmont Kea Lani where he developed a menu that reflected the diversity of Hawai'i's cuisine.
His What Maui Likes to Eat, published in 2010, celebrates Maui's unique culinary heritage, showcasing fresh local ingredients and favorite local dishes that define the island's past, present, and future as a leader in farm-to-table, sustainable cooking.